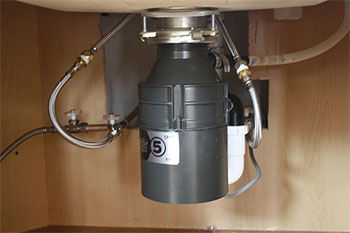 It's a busy day at the kitchen, and you have lots of cooking to do. You're playing host to a couple of friends and you are trying to have the food ready before dinner time when your friends would be arriving. So far, you've been having a good time in the kitchen but just when you're about to do the dishes and get on with the cooking. So you flip on the disposal, expecting to hear the usual whining sounds of the rotating blade, but nothing happens. In frustration you check and check again, but you still couldn't make it work, the kitchen disposal is about to ruin your perfect day.
Garbage disposals, are an excellent way to reduce, and dispose of waste foods in the kitchen, since it was designed to chop up scraps of food into very tiny bits to ensure easy passage through the drain pipes of the sink, and into to the sewers. This has helped reduce the risk of clogging the sink in your kitchen. And also reduced the amount of waste foods that goes into the garbage, which usually ends up causing problems with the incinerator, where most of the garbage's end up.
Although the disposal chews up almost anything and sends it down the drain, it is not a garbage can, and definitely not meant for disposing all kinds of food, the way some people are accustomed to. They throw in anything and everything including bones, stringy vegetables, fat etc. such things only help to jam up and greatly reduce the life span of the disposal, and you end up being in a situation similar to the one described above.
When you have a problem with your disposal, give us a call and we'll send someone over to take care of it. We provide repairs and maintenance for your kitchen disposals. And when you've decided to finally have a disposer for the sink in your kitchen, our technicians will be there to help you install it. Kitchen disposers are of two types, the batch feed and the continuous feed disposers.
The batch feed as the name implies works when the switch is turned on, and you activate the disposer switch, while the continuous feed works as long as the switch is on. And like every other machine, they both have their advantages and disadvantages, and it is best to have one of our experts to help you decide on a suitable and durable one to use. So pick up your phone and give us a call.