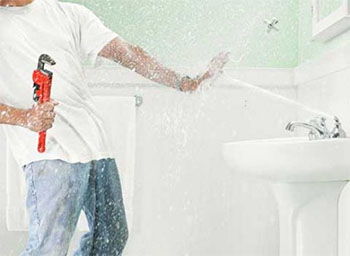 Plumbing emergencies are usually always a handful of problems anywhere, both at home and in your place of business. They usually occur at the worst possible moments, and it is usually very difficult to find a plumber who would come to your aid.
With some of them being quite dangerous, and could cause damages worth thousands of dollars if you don't take care of the problem on time. If you can imagine having a broken water pipe in your home, with no one there to notice, probably due to the fact that you're all in bed, and you wake up to find half of your lovely home covered with inches of water. That could ruin your electronics, floor finishing and so on, and if there happens to be something electric on the floor, then you know that you're in for a whole lot of trouble.
Any plumbing problem could become a plumbing emergency, especially if the problem could have a direct effect on your time schedule, and when you need a plumber who could get it fixed, they usually become so scarce leaving you in a state of panic and worry. When your hands are tied up with a plumbing emergency, you don't need to panic because we at Plumber in Woodlands will always be there to take good care of it.
We are here for you 24 hours a day and 7 days a week, always ready to handle any forms of plumbing emergencies which may include:
Gas leaks: gas leaks are by far the most dangerous plumbing emergency, when there's a gas leak in your home, you risk losing your home to an explosion. When the gas saturates the air, and there is no one to notice and call for help, all it would take is a tiny spark and your home with everyone in it will all go down in flames. That is why it is important that as soon as you notice the faint smell of rotten eggs, you give us a call immediately.
Water leaks and broken pipes: the thought of having your home flooded with water as a result of a broken pipe can be really scares all home owners. Even the tiny drops of water that falls off a tiny hole on a pipe in the wall, can cause damages over time. When you notice a water leak, it would be in your best interest to turn it off from the source before finally taking care of it.
Water heaters repair: a faulty water heater is classified as an emergency in most homes, your only source of hot water has been cut off, and unless it is taken care of, you will have to boil water manually, or bath with ice cold water. When your water heater is faulty, contact us and we'll have it fixed.
Whatever kind of plumbing emergency you may have, whether at home or in your business area, we'll take care of it as soon as you contact us.