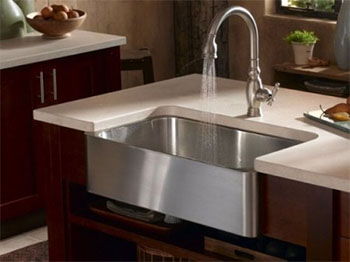 Plumber in Woodlands offers the best kitchen plumbing services in Texas. We have well trained plumbers who are capable of providing quality services whether it a new installation, plumbing repair or plumbing replacement. We provide 24hours emergency kitchen plumbing services. When you call us be assured that our plumber will arrive in time to resolve whatever issues you are having in your kitchen.
Our team of plumbers have years of experience and that is why they can detect leaks and clogs, fix broken fixture and unclog your drains. Clogging of your drain might be as a result of accumulated dirt and grease. You can trust our experienced team of plumbers to help you fix that. We can also provide suggestions for a kitchen upgrade you may require and the best that suits you. We are also friendly, neat and prompt.
No matter the type of installation whether it is a minor upgrade or a major kitchen remodeling, we will exceed your expectation and you can trust that we would meet up your deadline.
Drain odor may occur as a result of accumulated waste or dirt in the sink holes. If you have such problem, you can call us. We will provide a qualified plumber who will clean the drain and clear any blockage. We will also give you advice on how to prevent further occurrence and some tips on how to unclog your drain. You should always contact us for your kitchen plumbing services if you are not sure of what to do so that you don't hurt yourself and to prevent further damage to the equipment. It is essential to maintain your kitchen plumbing system and appliances so that they don't get seriously damaged.
Be assured that the materials we make use of are of the best quality and are highly durable. We want only the best for you that are why we go for the best materials available in the market materials that are guaranteed to last long.
You can trust our kitchen plumbing experts to have respect for you and for your home. You can also count on us when it comes to getting the job right and getting it right the very first time because we are well trained in our respective fields.
We know your kitchen is the heart of your home and that is why at Plumber in Woodland, we do whatever it takes to make sure it remains that way. You will be receiving the best kitchen plumbing services when you call us.